Books > Compute!'s Guide to Adventure Games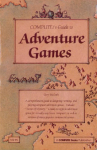 Compute!'s Guide to Adventure Games (US)
Gary McGath
Compute! Books, 1984
Download all programs from this book on one disk:
1 program (100% complete)
Program
Author
Requirements
Files
Info
Tower of Mystery

Pages 161-171.
Gary McGath
8K expansion
tower myst 8k.prg
Solution
Map
Screenshot
Text adventure. The only remaining copy of Adventure is stored on an ancient mainframe computer in an old factory. You must explore the building and make a copy of the game.
Controls:
Commands include: N, S, W, E, U, D, EAT, KICK, INSERT, TYPE, GET, DROP, INVENTORY, MOUNT, READ, OPEN, EXAMINE, WIND.
With thanks to Internet Archive and DLH's Commodore Archive for making this book available in PDF format.
VIC-20 Listings <http://www.vic20listings.freeolamail.com/>
Copyright (C) R.M. Smedley 2020, All Rights Reserved.
This page was last updated 28-Mar-2020.