Books > How to Create Adventure Games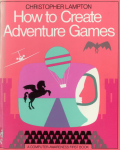 How to Create Adventure Games (US)
Christopher Lampton
Computer-Awareness First, 1986
Download all programs from this book on one disk:
2 programs (100% complete)
Program
Author
Requirements
Files
Info
The Quest

Pages 63-74.
Christopher Lampton
16K expansion
the quest 16k.prg
Solution
Screenshot
Text adventure. You have been left a mysterious diary by your late uncle, which reveals that he has discovered a gateway into another world. You decide to continue his quest to obtain a fabled magic jewel.
Controls:
Use two-word commands, e.g. GO NORTH.
Adventure Game Skeleton

Pages 75-83.
Christopher Lampton
16K expansion
skeleton 16k.prg
Screenshot
Template for writing your own adventure games.
Controls:
See book for details.
With thanks to DLH's Commodore Archive for making this book available in PDF format.
VIC-20 Listings <http://www.vic20listings.freeolamail.com/>
Copyright (C) R.M. Smedley 2019, All Rights Reserved.
This page was last updated 26-Oct-2019.