Books > Write Your Own Fantasy Games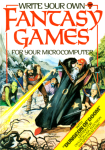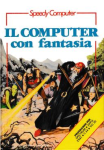 Write Your Own Fantasy Games (GB) / Il Computer con Fantasia (IT)
Les Howarth & Cheryl Evans
Usborne Publishing, 1984 (GB) / Gruppo Editoriale Jackson, 1985 (IT)
1 program (100% complete)
Program
Author
Requirements
Files
Info
Dungeon of Doom
(Enhanced version)

Pages 32-46.
Les Howarth & Cheryl Evans
24K expansion
dungeon doom 24k.d64
Screenshot
RPG construction kit, create your own RPG fantasy games. Comprises three modules: character creator, dungeon generator, and game module.
Controls:
Follow on-screen prompts.
With thanks to Usborne Publishing and DLH's Commodore Archive for making this book available in PDF format.
Italian book scanned by Internet Archive.
Thanks also to Orion70 and all the members of the VIC 20 Denial forum for the enhanced version.
VIC-20 Listings <http://www.vic20listings.freeolamail.com/>
Copyright (C) R.M. Smedley 2022, All Rights Reserved.
This page was last updated 18-Jun-2022.