Magazines > Commodore Computing in SA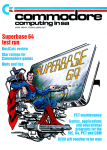 Commodore Computing in SA (ZA)
Commodore Computing in SA was a South African magazine dedicated to Commodore computers, published by Systems Publishers. The editor was Salome Meyer. Few issues have been scanned.
Download all programs from this magazine on one disk:
3 programs
Program
Author
Requirements
Files
Info
Invisible Maze
(Maze Man)

Vol 2 No 2 (Apr/May 1984),
Pages 31-32.
Jacques Anderson
Unexpanded
maze man.prg
Screenshot
Maze game. Move the yellow diamond through the invisible maze to reach the red heart in the fewest possible moves. There is a five move penalty for pressing 'H' to display the walls.

Controls:
W (up), X (down), A (left), D (right), H (briefly show walls).
VIC's Undeletable Line

Vol 2 No 5 (Oct/Nov 1984),
Page 4.
C R Rosli
Unexpanded
undeletable.prg
Screenshot
Programming demo. The final line in the program cannot be deleted because it has line number 65535, when the highest allowed line number is 63999. It makes a beeping noise when run.

Controls:
None.
VIC Finance

Vol 2 No 5 (Oct/Nov 1984),
Pages 28-29.
J de Villiers
16K expansion
vic finance 16k.prg
Screenshot
Perform various financial calculations. Range tells you how much you can afford to borrow by calculating the interest five points above & below the mid-point. Amortize calculates the payment due & balance remaining for each month. Bargraph displays data on a bar chart (enter the labels as a single string with three letters per item e.g. "JanFebMar"). Monthly payment calculates the payment schedule for the life of a loan; File Create & Retrieve saves data onto tape. Balance Due calculates how much interest will be saved by making additional payments.

Controls:
Follow on-screen prompts.
Notes
The following programs are missing from this magazine: Kiddies' Quiz by W J de Jongh (Apr/May 1984) [the listing for the main program is incomplete].
With thanks to Retro Commodore for scanning this magazine.
VIC-20 Listings <http://www.vic20listings.freeolamail.com/>
Copyright (C) R.M. Smedley 2022, All Rights Reserved.
This page was last updated 27-Aug-2022.