Magazines > Cursor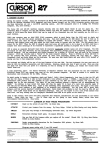 Cursor (US)
Cursor was an American magazine dedicated to the Commodore PET, published by The Code Works. Each issue comprised a two-page newsletter together with a cassette tape containing five or six programs. A total of 30 issues were produced from July 1978 until May 1982. The editor was Glen Fisher.
Download all programs from this magazine on one disk:
1 programs
Program
Author
Requirements
Files
Info
Miser

Issue 27 (Sep 1981).
Mary Jean Winter
16K expansion
miser 16k.prg
Solution
Screenshot
Text adventure. You must explore the miser's house and find all the treasures.
Controls:
Use two-word commands. Commands include: N, S, W, E, GO, GET, DROP, UNLOCK, OPEN, MOVE, TURN, SAY, POUR, FIX, JUMP.
With thanks to Internet Archive and DLH's Commodore Archive for scanning this magazine.
VIC-20 Listings <http://www.vic20listings.freeolamail.com/>
Copyright (C) R.M. Smedley 2020, All Rights Reserved.
This page was last updated 11-Apr-2020.