Magazines > Your 64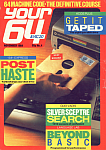 Your 64 (GB)
Your 64 was a British magazine dedicated to Commodore computers, published by Sportscene Specialist Press. The magazine was initially called Your 64 & VIC 20, then it was renamed Your 64 from issue 7 (Mar 1985) onwards. It started as a bi-monthly magazine in April 1984, and turned monthly with issue 6 (Feb 1985). A total of 14 issues were published, then it was incorporated into Your Commodore magazine. The editors were Bruce Sawford (issue 1), Surya (issues 2-7), Roger Munford (issues 8-10), Roger Andout (issue 11) and Alison Hjul (issues 12-14).
Download all programs from this magazine on one disk:
2 programs (100% complete)
Program
Author
Requirements
Files
Info
Maze

Issue 1 (Apr 1984),
Pages 75-78.
Mark Greenshields
3K expansion
maze 3k.prg
Screenshot
You are trapped in a scrolling, multi-screen maze and must find the exit as quickly as possible.
Controls:
Z (left), X (right), K (up), M (down).
Exocet

Issue 4 (Nov 1984),
Pages 70-77.
Dave Ponting
3K expansion
exocet 3k.prg
Screenshot
Use your missiles to sink enemy ships as they cross the horizon.
Controls:
F1 (left), F3 (right), F7 (fire).
Notes
Exocet (84-11) was republished with permission from Sixty Programs for the VIC 20.
With thanks to Mort and DLH's Commodore Archive for scanning this magazine.
VIC-20 Listings <http://www.vic20listings.freeolamail.com/>
Copyright (C) R.M. Smedley 2019, All Rights Reserved.
This page was last updated 25-May-2019.